TACTICAL FIREARMS ACADEMY
FLORIDA'S PREMIER FIREARMS TRAINING ACADEMY
Selecting the right firearms instructor is one of the most important decisions you will make. It is important to choose someone that you feel comfortable with and can learn from. Tactical Firearms Academy (TFA) has been in operations for over twenty years with an instructor team background in military, law enforcement, competition shooting, and private law enforcement. TFA's instructors stay current on the latest shooting techniques by attending continuing education courses as part of license requirements and to offer their students the most current practical shooting applications. We hope you choose TFA to be "Your Trainer For Life."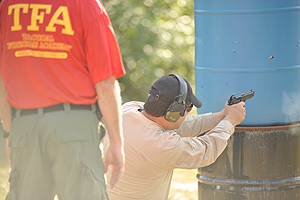 The Tactical Firearms Academy staff have more than 50 years of combined expertise in firearms training. All of our instructors are licensed with the State of Florida and insured through the NRA instructor programs. All instructors maintain an active status in the public and private law enforcement world. Backed by the U.S. Department of State, NRA, FDLE, and the State of Florida, our instructors are constantly updating their training curriculum in order to bring you the latest in firearm tactics and manipulation training.  We offer unique, useful, and time proven tactical concepts for those attending our training courses.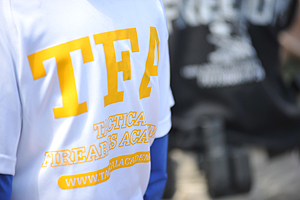 We are fully committed to providing  you the safest, cost effective and most comprehensive training courses available. We believe when using a firearm to protect your life or the lives of others, you should be committed to getting the necessary training to be effective and safe. Tactical Firearms Academy's training regimen is firmly rooted in the cutting edge, real-world capabilities of our instructors. What we teach is not based upon theoretical assumption, but on our own extensive street experience and worldwide survival skills. We are in a constant state of learning and consider ourselves perpetual students.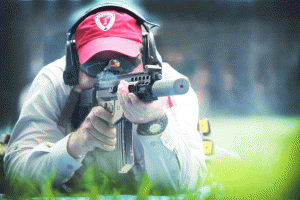 Tactical Firearms Academy provides outstanding training at public and private ranges in Miami-Dade, Broward and Palm Beach counties as well as at our private training facility in Clewiston, FL.  By leveraging our relationships with existing business affiliates we are able to offer you additional services to meet all your firearm and training needs.  Through our relationship with KGB Armament we are able to offer our students the ability to purchase ammunition and firearms, including Class III and NFA items, at prices that are highly competitive.
TFA strives to be professional above and beyond everything else. If you have taken a firearms class somewhere else, you may have noticed the egos and various personalities that exist in this industry. If not, let this be your first lesson we teach. Trainers and members of the shooting industry are not required to show they have a lack of respect to new shooters just starting or have been shooting since they were in diapers. We treat you, as we want to be treated. We keep a focus on safety, but allow ourselves, and you, to have fun and even smile and laugh once in awhile. The connections Tactical Firearms Academy makes with our students are what give us the ability to be entrusted to be "Your Trainer For Life."
Tactical Firearms Academy is a fully licensed and insured firearms training facility with instructor licenses issued by the National Rifle Association (NRA), International Association of Law Enforcement Firearms Instructors, Inc. (I.A.L.E.F.I.), Florida Security Officer Instructor (#DI1100028), DSP-5 license with the  Department of State for Firearms Training of Foreign Nationals, Florida C.J.S.T.C Law Enforcement Firearms Instructor.